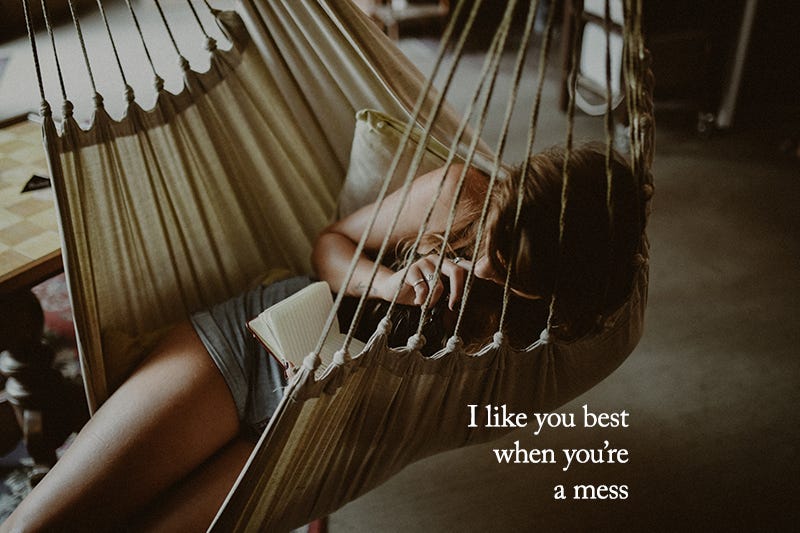 March 4th, 2018

Side A

1. Everyone Else In The World by Stina Nordenstam
2. 2 Cool 2 Care by Anna Burch
3. Wonder by Soap&Skin
4. Fortune's Fool by Hiatus
5. Tell Me by Johnny Jewell feat. Saoirse Ronan

Side B

6. No Below by Speedy Ortiz
7. Recording 15 by Shannon Lay
8. Nothing by Common Holly
9. Strange Darling by Miya Folick
10. I Know by Fiona Apple

Spotify | YouTube

Liner notes
"I've lived without your touch for so long that it fades from my memory."
What came first, the Mixtape or the mood?
The songs this week speak for themselves. I'd copy and paste all the lyrics from each here, if it didn't deprive you of discovering them for yourself. Rarely has a playlist aligned so perfectly with my present mood. Rarely have I had so little else to say.
That's why we make mixtapes, right? To say the things we can't. Where our own words fail us, the words of others never do. There's nothing like it, the incredible eloquence of a feeling captured by a stranger, nearly packaged, precise, prescient. As if they knew you'd need to hear this today, so had it ready to go, just for you.
Many of these artists are new to me. Hopefully some are new to you, too. This week I'm giving you homework, only it won't feel like work: If you love this playlist, seek these artists out. Listen to everything they've recorded. It'll take all week. And it will be so, so worth it. Believe me.
I couldn't have said it any better myself.
---
Mixtape is still a free newsletter once a month. From now on access to the weekly newsletter will be with a paid subscription. Subscriptions are just $5 a month, or $50 a year. You can subscribe here. Thank you kindly. Payments are made with Stripe, which is easy to use and secure. Until next time x

– Dan Dalton
Twitter | Amazon