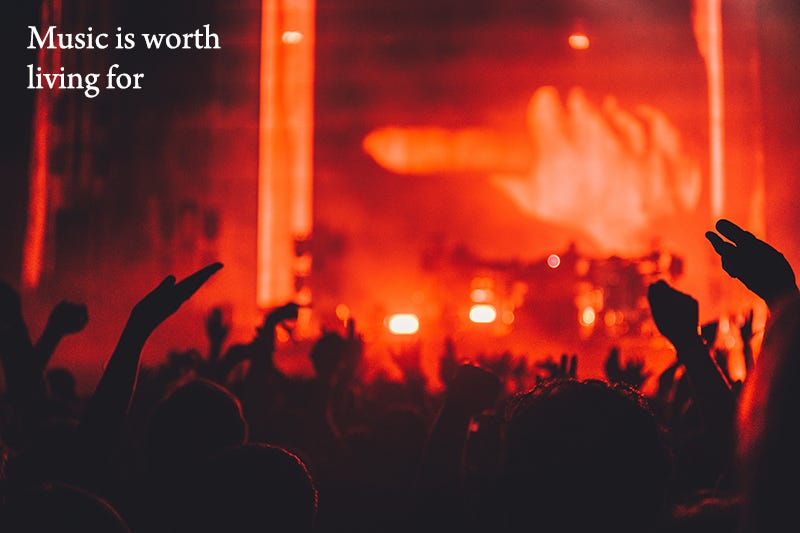 February 4th, 2018

Side A

1. Music Is Worth Living For by Andrew W.K.
2. Mighty Wings by Cheap Trick
3. Jump by Van Halen
4. The Touch by Stan Bush
5. Bat Out of Hell by Meat Loaf

Side B

6. Summer Of '69 by Bryan Adams
7. Free Fallin' by Tom Petty
8. Dreams by Van Halen
9. Rock And Roll Dreams Come Through by Meat Loaf
10. God Gave Rock 'N' Roll To You II by KISS

Spotify | YouTube

Liner notes
"The only way that I'll survive, music makes me want to stay alive…"

It's finally over. January. A month that lasted for years. It got pretty dark there for a while. And through it all there was music. So let's start February (and the first edition of Mixtape on our new platform, Substack) off on a positive note.
When Andrew W.K. released Music Is Worth Living For in January, I dropped the track straight into a playlist and started building a Mixtape around it. Not only is it a triumphant ode to the power of music, it's also a banger. If I had to sell it to you, it's "KISS meets Judas Priest, but everyone is on ecstasy." Not only that, it captures much of what this newsletter is about: music as medication.
In the lowest spiral of depression, music is the one constant. That and sleep. I don't always have the patience for books, and can't always stomach a film or a tv show. But I can wrap myself in a duvet, pull my headphones around my ears, and drown out the doubts and fears with sound. When I feel that low, I usually seek out songs and bands and melodies I've loved. Songs that remind me of what it's like to feel. Sometimes sad, sometimes uplifting, always affecting. In those times, music is a panic room that nobody – not even the relentless voices in my head – can break into.
My earliest love was '80s rock music. It went hand in hand with my earliest experiences of film, in the soundtracks from Top Gun, Bill & Ted, Dirty Dancing, The Goonies, The Lost Boys, Rocky VI, everything by John Hughes, and, yes, Transformers: The Movie (Stan Bush's The Touch is what I want to be when I grow up – see Track 4).
In my teens (1996–2002, RIP), I got into a lot of music that was beyond me as a kid in the '80s, music I'd missed the first time around due to youth and parents. Most of the new old stuff I discovered washing dishes at a local restaurant. Me and the chef had similar tastes, and to stay on his (mr b)right side I'd bring in whatever I was listening to, recorded to cassette so we could play it on the old portable stereo. One of the bartenders had lent me some Van Halen, and that became a staple, as did Meat Loaf. Nothing gets you through a couple of hours of hot kitchen like a bit of Bat Out of Hell; two chefs, three waitresses and the dishwasher belting out the chorus while the manager stood, hands on hips, trying not to be impressed. I was 17 and living my best life, elbow deep in grease and dish soap, singing like a headliner at Donnington Park.
It was in that kitchen I learned how to endure heartbreak for the first time; with good friends, alcohol, leftover fries, and Meat Loaf's Rock And Roll Dreams Come Through. I can still taste that broken heart every time the song plays, but damn if it doesn't make me believe that love is worth it, pain and all. Just to say well shit, I tried. And that maybe, yes, she did leave, but as long as there is still music, there is hope.
There's always something magic, there's always something new, and when you really really need it the most, that's when rock and roll dreams come through…
These are songs that I've belted out drunk, karaoke'd sober, cried to, loved to, and clung onto from the wilderness of January (and other depressions). Thank you, Andrew W.K., for giving me the excuse to collect them here. Welcome to February. We might yet make it out of winter, and when we do, our hearts will be filled with guitar solos, our fists pumping the air, our vocal chords shredded. Just the way it should be.
*

Mixtape is still a free newsletter once a month. From now on access to the weekly newsletter will be with a paid subscribtion. Subscriptions are just $5 a month, or $50 a year. You can subscribe here. Thank you kindly. Payments are made with Stripe, which is easy to use and secure. The first subscriber-only Mixtape will be going out next week. Until then, wrap up warm, rock out hard, and be excellent to each other x

– Dan Dalton
Twitter | Amazon